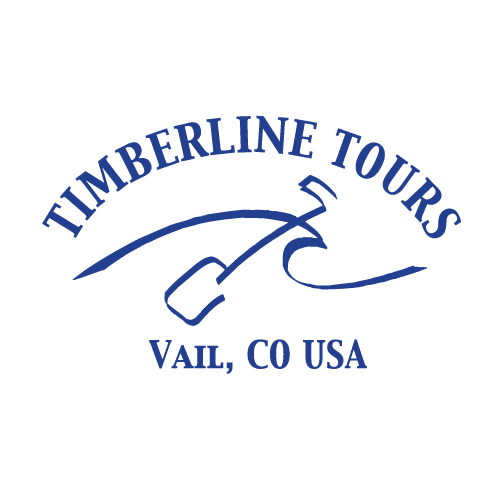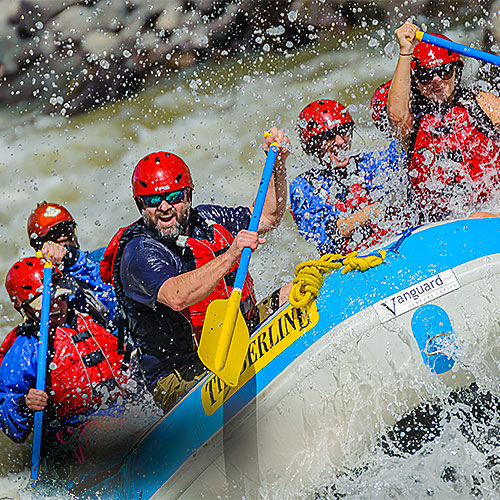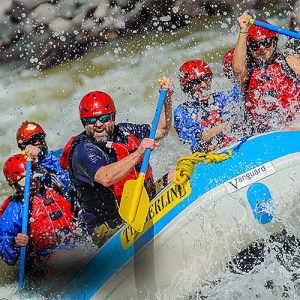 This business does not offer winter services at this time.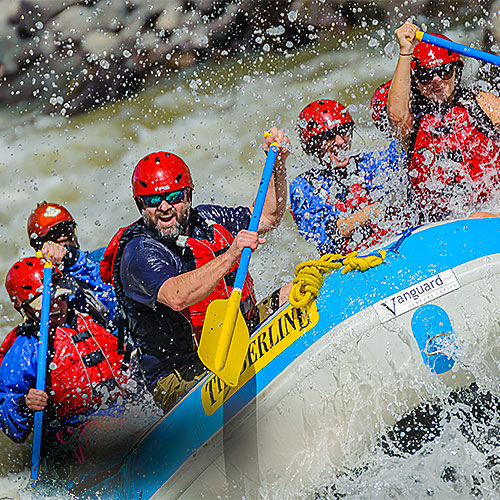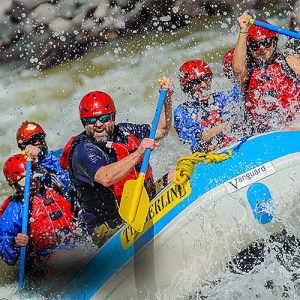 Stand Up Paddleboarding – Have fun while testing your balance and skill on a guided stand up paddle boarding (SUP) trip. Timberline Tours is the forerunner in SUP tours, with guided trips for all ability levels. Try SUP for the first time on flat water or take on the challenge of moving water while paddling through beautiful river canyons. Timberline supplies the gear, including state-of-the-art equipment and personal flotation devices; all you have to do is show up ready for excitement. Guiding Vail since 1981.
Family Fun Float Trip – Join Timberline Tours on the Upper Colorado River near Vail for a relaxing float trip interspersed with scenic views and splashy rapids that are mild and appropriate for adventurers of all ages. Since guides paddle oar-framed rafts on this section of river, Upper Colorado River rafting is a great family-friendly choice. Upper Colorado River rafting variations include the Rafting and Dinosaur Discovery trip that's an adventure back in time—and perfect for families with kids. Call 970-476-1414 or go online to learn more.
Rafting – Vail's premier rafting outfitter, Timberline Tours offers a variety of guided whitewater rafting trips near Vail that range from family-friendly float trips to adrenaline-pumping whitewater adventures. Timberline Tours has been providing the ultimate in outdoor adventure since 1971, with world-class guides and state-of-the-art equipment. Timberline Tours also offers guided inflatable kayak (duckie) trips and stand up paddleboard (SUP) lake and river trips. Learn more and reserve online or call 970-476-1414.
Jeep Tours – Discover the real Colorado on an exciting off-road adventure with Timberline Tours as your guide to wildlife and wild tales of the Eagle River valley. Experience the grandeur of Vail area wildflowers, alpine meadows, and mountain peaks as you travel high in elevation to take in breathtaking views. Vail's premier adventure outfitter since 1971, Timberline offers jeep tours twice daily. All trips include door-to-door transportation and refreshments. Ask about group rates. Go to our website to learn more.
Wine Tasting Raft Trip – A Vail outing for those with adventurous tastes, the Timberline Tours rafting and wine tasting trip mingles river excitement with local flavor. This journey begins with a guided rafting trip on the Upper Colorado River, where guests experience splashy whitewater rapids, wildlife sightings, and stunning mountain views before setting off to 4 Eagle Ranch for a tasting of wines handcrafted by the local Vines at Vail Winery. A great fit for groups and special events. Min. 6 people. Call 970 476-1414 to learn more.
Dinosaurs – Timberline Tours, the Vail area's premier rafting outfitter, teams up with Fossil Posse to offer this prehistoric journey back in time that explores the great dinosaurs that once roamed the Colorado River valley. On this unique family-friendly adventure, you'll explore real footsteps, bones, and dinosaur history. Available Tuesdays and Thursdays, includes transportation, rafting, lunch, and Fossil Posse Camp. Other days available upon request. Call 970 476-1414 for details, or book online at www.timberlinetours.com.