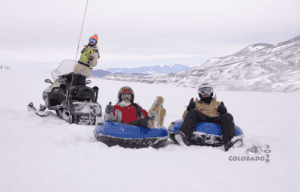 This business does not offer summer services at this time.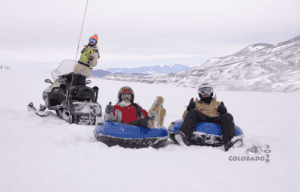 Snowmobiling Tours and Rentals– HCT offers 2- and 3-hour Guided Snowmobile Tours with optional Snow Tubing, and Unguided Snowmobile Rentals. HCT has two unique riding areas with free transportation from Keystone, Breckenridge, Copper Mountain and Summit County. Snowmobile options accommodate 1, 2, or 3 riders and may include heated seats, electric start, and hand 'n' foot warmers. Kiddie snowmobiles, too.  HCT has slower-paced, scenic tours for first-time riders and families, as well as more adventurous tours for those who want to push the throttle and climb the mountain (12,600′)! Check out HighCountryTours.com. Live the Adventure!
Snow Tubing– You can double your fun by adding Snow Tubing to your Colorado snowmobiling adventure! During your beginner family-friendly 2- or 3-hour guided snowmobile tour, you will stop at our 1,050-foot-long tubing hill. Your guide will tow you in your snow tube up the hill with their snowmobile. You will then slide back down by yourself or hold onto your friends in their tubes. You will also have the chance to enjoy our 3/4-mile-long oval track on your snowmobile, sip hot cocoa at the Cocoa Cabin overlooking Eagles Nest Wilderness, and let your kids take a spin on our Kiddie snowmobiles. Visit HighCountryTours.com today!