Good Times Adventure Tour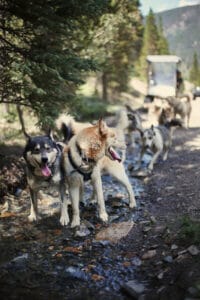 Come visit our state of the art kennel, home to our loveable pack of Siberian Huskies.  Guided by our experienced staff, we offer kennel tours where you can meet and pet the dogs. On our cart tours, ride along while we take the teams out for a training run through scenic Swan River Valley.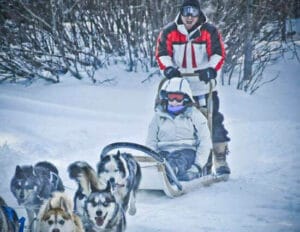 Snowmobiling- Good Times Adventures offers one of winter's most popular activities minutes from downtown Breckenridge, providing access to some of the most scenic spots in Summit County. With our large lodge and 100 snowmobiles, Good Times is perfect for individuals, families, or corporate groups. Our brand new 2024 600 cc Four Stroke SkiDoo snowmobiles are state-of-the-art, equipped with hand-warmers and backrests, ready to take you into the backcountry of Breckenridge in style! All our guides are extremely experienced, guide-to-guest ratio is small, and our facilities and equipment are top-notch, allowing Good Times Adventures to ensure a safe and enjoyable experience for guests.
Dogsledding-Dogsled tours begin with our guides explaining the sleds and how to handle the beautiful Siberian Huskies we run. We offer a 6-mile relay tour through the Middle Fork of the Swan River, which can handle up to 6 people. All guests will switch off between running the dogs, riding in the dogsled, and riding on a small passenger sleigh with the guide. The tour runs for a little more than an hour, stopping along the way so everyone can trade places. Guests can take photos and videos. A unique and interactive way to experience dogsledding, and Good Times Adventures.